Website Solutions for Auto Recyclers
Sell your parts online with our Pinnacle Website Solutions
Auto Recyclers looking to run a multi-channel business need to leverage the power of selling in an online marketplace. With Hollander web solutions, you can take your business further and enhance your online presence by selling parts from your Pinnacle Inventory directly on your own website.
Your own auto parts store
Sell your parts on your own website with our dedicated parts store solution. 
Protect your margin
No more middle man taking their cut, Sell your parts and take 100% of the revenue on every transaction.  
Integrated with your Pinnacle
Get orders directly from your website to the Work Order Manager system in Pinnacle. No need for additional software or expensive integrations.
A brand your customers know
Sell your car parts in a store that looks and feels like your brand and existing website.
Live auto part stock made simple
With our powerful solutions, your stock is live all the time, no need to worry about uploads or downtime. We make it effortless.
Built for online search engines
Build your parts store for all the web to see. Our solutions help you drive and optimise for the latest SEO requirements.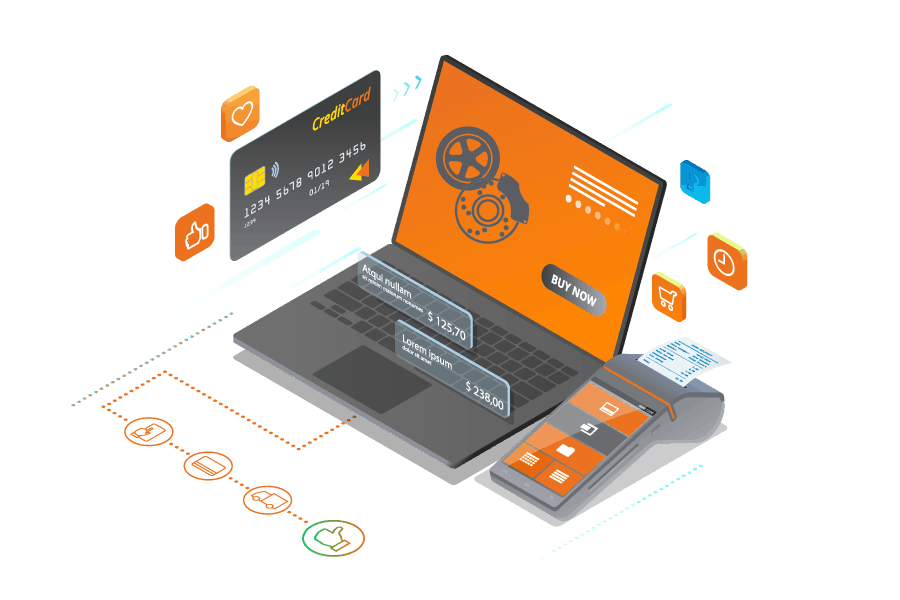 Leverage the Power of eCommerce
With Hollander Web Solutions you can get your auto parts inventory from Pinnacle, fed directly to your website in real time without the need for external web developers or expensive integrations and plugins.
Did you know that by 2020 it is estimated that 70% of purchases will be made online? There has never been a more important time for business, both local and national to have a presence online. Our website solutions help you do just that. We have a range of available solutions that can help you get your auto parts online. From a fully hosted parts website to API access and iFrames. 
Our Website solutions are designed to work from a dedicated sub domain or subdirectory on your existing website. So you don't need to worry about costly web redesign or purchasing new or expensive URL's to host your car parts. 
Simply tell us what your parts store name should be and we make it work. For example buyparts.yardname.com. What we build is an effective online auto parts store for you to sell your car parts effectively. Your parts are listed in real time based on your Pinnacle Inventory, Pricing is based on your requirements and everything from the checkout to the shipping options is within your control.
Unlike other web design providers our solutions are built knowing you, our customer, and the challenges you face. When you opt for a web product from Hollander International we talk you through the process including 121 meetings with our dedicated web design and development team,  we understand what you want and deliver to your timescales.
We have a range of options and features for you to choose from. 
Online parts store for customers near and far
Ensuring your business stands out against the major industry players is difficult, our solutions help you compete both nationally and locally by being fully adaptable to the latest web standards and SEO requirements.
By choosing Hollander International to build your web presence you can leverage the power of being local to your customers with a web solution that caters to local SEO. Unlike other out of the box web solutions,  our solutions are built so you can take 100% advantage of SEO and are feature focused for auto parts suppliers. 
Choosing one of our web solutions to sell your auto parts online means you deal with one provider for your inventory and web needs but it also allows you to leverage the power of our security and data controls. Our packages all include hosting and maintenance of your e-commerce parts store. The same infrastructure that keeps your data safe and secure in Pinnacle will be protecting your customers online. Expect our solutions to meet all web standards for infrastructure security incl SSL, data protection including GDPR and customer security.
Hollander International also offer fleet portal solutions that can have user access and security applied so your parts on a dedicated parts store can only be viewed and purchased by authorised users. See our Fleet Portal page for more information.
Choose an  online parts store with these Key Features
Delivery Options
Setup defined courier options and costs. Decide where you want to ship and give customers the choice. 
Order E-mails
Customise the look and feel of your order emails, brand them and customise what information to include for your customers. 
GDPR Compliant and Secure
An auto part store that is fully compliant with GDPR. We take of the maintenance and security.
Vehicle Registration Lookups
Allow customers to search by Vehicle registration ( country dependent) or select from a selection of choices. 
Filter Criteria
Dedicated auto part filters to allow your customers to find the part they need.
Capture Feedback
Our solutions allow you to integrate with your chosen reviews platform and get feedback from your sales.
Multiple Payment Support
Want to take payment with PayPal? Stripe? Or another major payments provider. We can make that happen.
Mobile Optimised
We build your parts store with a mobile-first approach. Responsive and fast.
Multi Language Support
Multi-language support available for those that want to sell on the International Stage. 
Search by IC
Leverage the power of Pinnacle Interchange and help your buyer source the right part on your site.
Coupon Codes
Run a promotion at any time and offer coupon codes for customers to use during checkout.
Form Integrations
Enable contact forms for part requests or customer contact enquiries.
Web product comparison table
Decide what e-commerce product is right for your business. Our flexible choices allow you to pick a web solution that meets your current needs. Our Auto parts store solution is a one stop complete solution including the features detailed above. If you have your own web teams then great our API or iFrame solutions may be ideal for you.
| Web Product | Optimised for SEO | Setup / Integration | Live Auto Part Stock | Shipping Options | IC Part Search | Fully Branded | Inc Hosting |
| --- | --- | --- | --- | --- | --- | --- | --- |
| Auto Parts Store | | | | | | | |
| iFrame | | | | | | | |
| API | | | | | | | |
Getting started
Getting your own auto parts store couldn't be easier. Get in touch with us by filling out the form below and our team will get in touch to discuss with you the finer details. Including pricing and timescales.
Additional Yard Management Solutions
Pinnacle Professional is extremely powerful, combine it with these additional tools and it is game changing for any auto recycling business.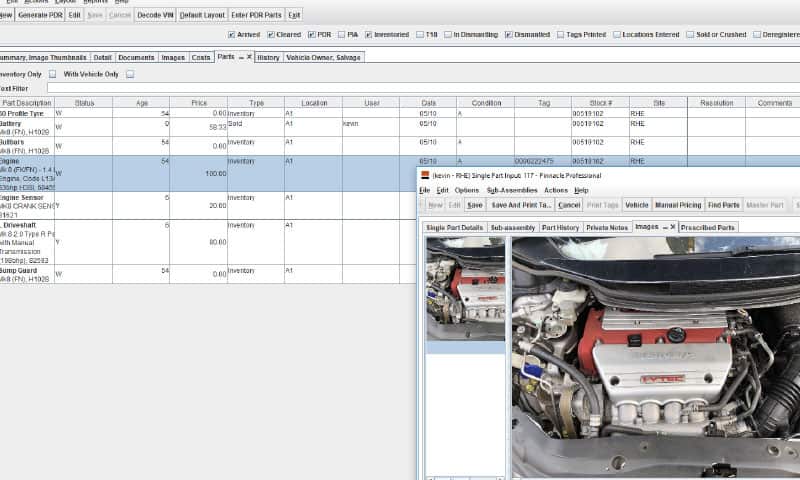 Pinnacle Professional
Our web solutions require Pinnacle Professional as your yard management system. Our car parts software is best in class, learn how it will support your online activity.  
Sales Inventory Tools
Get your parts ready for an online world. Part Imagery is key when selling online to consumers and business. With SnapIt we make it simpler to add images to your inventory's parts.
Dedicated Setup Training
Our onsite and classroom based training options enable your business to get of to a flying start with the Pinnacle Yard Management System.